The death of a loved one may devastate us with grief, pain and loss. But it can never rob a Christian of the hope of eternal life in Christ and the joy that flows from it. Only the gospel can give us both the space to grieve and a reason to hope.
The death of Lazarus brought Jesus to tears, even though Christ knew he would overcome death.
Grieving with hope seems strange, counter-intuitive and unrealistic. Grief seems appropriate in the face of loss, death, and suffering. Hope seems natural when waiting for desires to be gratified or longings to be satisfied. But grieving with hope goes against our natural reasoning. Yet this uniquely Christian posture is not only possible but powerful.
We spoke to four people who were touched by grief and death in the last two years. We asked them how the resurrection of Christ and the power of the gospel is helping them grieve with hope in the valley of the shadow of death.
"The Gospel Became of Far Greater Value Than Ever Before"
Shannon Pinto has served as the pastor of NLF Utsav Church for 11 years. He married Farah in 2004. They had a joyful marriage and were both faithful and fruitful in ministry. They had a daughter, Anaya. 
Farah was extremely fit and healthy all her life. But she suddenly fell ill and was diagnosed with Thrombotic Thrombocytopenic Purpura (TTP), an ultra-rare genetic blood disorder. In a tragic turn of events, Farah went to be with the Lord just two days after she was admitted in the hospital. She was only 39. Shannon and Anaya were devastated by Farah's death and the suddenness of it all.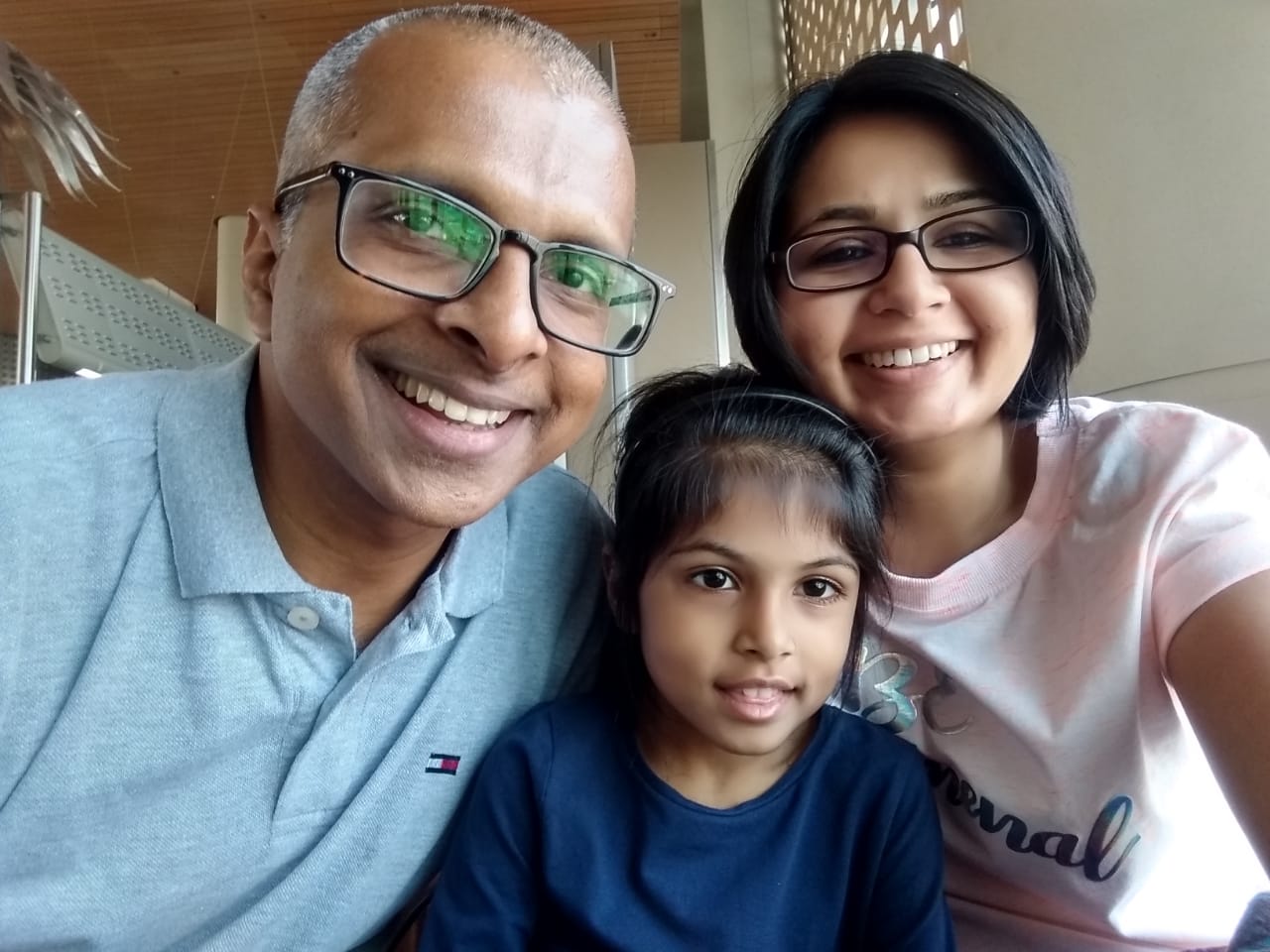 Here is Shannon's story of grieving with hope.
I never felt as helpless as I did at that moment of Farah's death. I would have done anything. I would have given anything and paid anything to get her back. In that moment I realised I could not do anything. But I was also conscious that the Lord is with me. I was aware of his sovereignty.
I lived with raw pain for about 6 months. I was sore from head to toe. I could physically feel the pain. I would replay the whole scene at the ICU over and over again in my mind and I would relive my helplessness. I would feel an urge to call Farah, but grievingly remember she is not with us anymore. I would sense she was coming in to the room, but realise that would never be.
The pain of Farah's absence is still there. The grief will always be there. It feels like an amputation; as though half of myself has been torn away from me. The pain is not what it was, but the loss is there.
But I will always thank God for my precious Farah. She was such a godly woman—faithful to Jesus, loving wife, mother and adorable daughter. It was such a blessing to be married to her. Every time I see pictures of us, I am grateful to the Lord for giving Farah to Anaya and I. The grieving does not end, but it is important to continue to grieve in hope.
The pain of Farah's absence is still there. The grief will always be there. It feels like an amputation; as though half of myself has been torn away from me.
Community played a big role in helping Anaya and I grieve. A loving family—Ian and Linette Banerjee and their two kids—brought us into their home during the first lockdown and took us in for three months. When we moved back to our home, they also moved close to us. 
It is so important for loved ones around you to know how to let you grieve. These friends let us grieve without trying to take Farah's place in Anaya's or my life. Two or three families came around and helped me spend time with the Lord and help me grieve. Healing requires godly, prayerful gospel-centered families who will exalt Jesus together. They would even lovingly correct me if I needed a moment's encouragement.
First Thessalonians 4:13 gave me the freedom to grieve and it reminded me that my grief is not without hope.
In all this, I was never angry with the Lord, not even for a moment. I was conscious of his nearness to me and I knew he has paid the highest price to save me from my sins and has gifted my Farah, Anaya, and I with eternal life .
I am grateful for God's word—how by his Spirit he has articulated the gospel and the promises we have in Christ. One day, in my grief, the Lord gently led me to read 1 Corinthians 15. I had read it many times before. But when I read it that day I began to feel a warmth, a healing began in my heart. The Apostle Paul argues how everything hinges on the resurrection, and without it, you are still living in your sin. 
My healing began in those moments. A peace and a joy came into my heart as I felt the assurance that I will see my Farah again and this time there will be no separation because of the sacrifice and resurrection of our Lord Jesus Christ. I now live in hope.
The gospel became of greater value than ever before. This is how my healing began.
Almost every night I rehearsed the gospel in my heart and with Anaya, who is eight years old. I can see she has matured beyond her age, not just because of her sorrow or her pain, but because of her hope in Christ.
I rehearse the gospel with Anaya in many ways—in devotional times, in exalting Jesus in different ways, and in the dailyness of life. I tell Anaya, "Mama is not here. She is with the Lord, the Lord is with us and we are with the Lord. So, in the Lord, we are all still together." I tell Anaya that Jesus gives Mama more joy than we could ever have given her.
Anaya has an increasing number of questions. When the Ukraine war broke out, she started to cry and was disturbed. So we prayed for the war and rehearsed the gospel through these events.
Two weeks before Farah went home to our Lord, I was in a busy season of ministry. And Farah lovingly gave me a charge. "Always keep the Lord first," she told me. "Our family and your health next. Everything else will take care of itself." Perhaps the Lord was speaking to me through her. I am faithfully living out her charge.
When she lived, Farah keep exhorting me to do more to train people in evangelism and apologetics along with my friend and mentor, professor Jude. After her death, I felt compelled to fulfill her desire.
After Farah passed, people realised life is short and we have to share the gospel and share God's love. I believe we also rehearse the gospel through our evangelism. That has also become bigger to me than it was earlier.
The gospel is of supreme value. And if the gospel is of supreme value then I cannot keep it to myself, which is why I decided to recount my journey of hope.
---
"It Was in Amma's Death That the Full and Glorious Joy of Resurrection Truly Came to Flood My Heart"
Ajitha Anand was born and raised in a non-Christian family. After she came to faith in Christ Jesus, she has been praying for her family members to also experience the sweet, redeeming love of our Saviour. She tells her story of how 20 years of mourning turned into dancing in the last months of her mother, Karthiyani's life.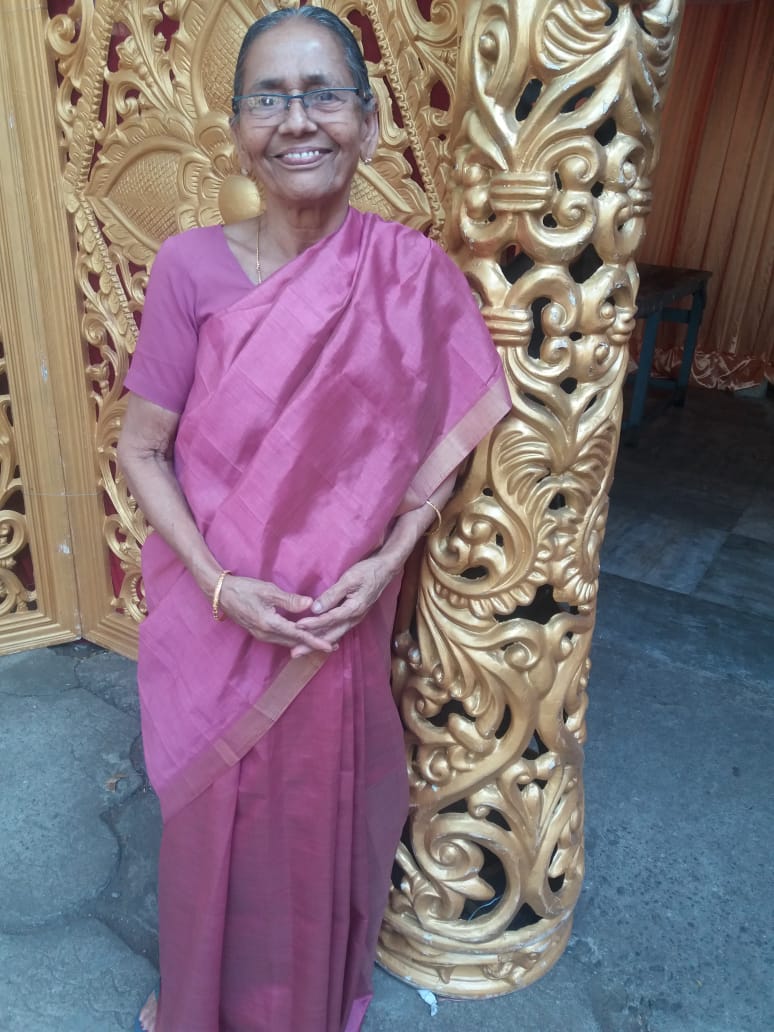 Here is Ajitha's story of grieving with hope.
Amma brought me great joy and laughter all my life, but for the past two decades I felt deep sorrow for her.
She was an incredible woman. Amma had this rare combination of fierce resilience and a joyful heart. My father abandoned us when I was 10 years old and my mom bravely raised me and my three siblings. And yet, the cruelty of fate was no match for her joyful and fun-loving nature. She was always laughing and bringing joy to those around her.
The day before she died, it was April Fool's Day. As she lay on her deathbed, fighting a losing battle against cancer, she wanted to play a prank on us. She tried her best to persuade her care-giver to prank us by telling us she was gone. Her sense of humour never left her until she died the next day, aged 82.
She brought me joy, but I felt so much sorrow for her, until our Saviour turned my mourning into dancing at the very end of her life. The sorrow flowed from the fact that she initially rejected Christ Jesus. We were all born and raised in another faith. And for two decades Amma chose not to believe in Christ. All I could do was to love her, pray for her and share about Christ as opportunities opened up. In God's grace, this was enough. 
One day I will see my Lord Jesus face to face and as my entire being worships him in rapturous joy, he will lovingly reunite me with Amma.
Around six months before her death, I had one more conversation with her in her hospital bed. And this time, to my great rejoicing, God moved her heart. And she came to faith, believing in Jesus Christ, not as a cancer patient needing healing, but as a convicted and repentant sinner who longed for a Saviour. God had indeed heard and answered two decades of my prayers for her salvation.
To the world, she passed away on Good Friday in 2021. To me, she passed into the loving arms of our glorious Saviour and into eternal life with him. It was bitter-sweet.
The grief was real. Tears flowed. My heart ached. The grief that I could no longer hold her and laugh with her crashed on to me wave after wave for months. But my hope of her eternal life with our Lord Jesus would always help me leap over every wave of grief.  
The waves—now less frequent—may never cease. But my hope only soars higher and higher. One day I will see my Lord Jesus face to face and as my entire being worships him in rapturous joy, he will lovingly reunite me with Amma. On that day, death would be undone. 
It was in Amma's death that the full and glorious joy of resurrection truly came to flood my heart. 
I fought her cancer fiercely in prayer for as long as she lived. "Jesus I don't know what to do, I am clinging to you, I am clinging to you," I cried out a million times when she was in the ICU at the hospital. But in her death, I felt a peaceful, joyful and hopeful release. She was in our Saviour's arms. 
I am a trauma counsellor. I have counseled many people through the dark grief and trauma of rape, abuse and death. But my training in counseling and psychology was so inadequate in my grief. Nothing could comfort me and ease the pain of my loss, except the hope of resurrection in Christ Jesus. 
In those dark nights of grief—before and after Amma's death—hope still shone brightly. "Do not be afraid! I am the First and the Last, and the Living One. I was dead, and now look, I am alive forever and ever! And I hold the keys of death and Hades" (Rev. 1:17-18 NIV). His words were my greatest hope. And hope became joy. And joy turned into strength.
Amma suffered a lot in her life. She suffered at the hands of her husband. She suffered the pain of poverty. She suffered the cruelty of the world. She endured the pain of seeing her dear children suffer. But now, in Christ, all she knows is joy. For that I am deeply grateful to God. I am not angry with cancer or even with death. The fountain of deep gratefulness is gently washing away my grief. 
---
"I have always underestimated the promise of 'peace that surpasses all understanding' in Philippians 4:6. Not anymore."
Elina Yohannan Kennedy works with a human rights organisation. She is from the southern state of Kerala but was raised in Dehradun, the beautiful foothills of the Himalayas where Elina's parents worked for several years. She now lives in Chennai with her husband, Jonathan where they serve with the worship team in their local church, City Rock Church.
Elina's father, K.P. Yohannan, moved to Dehradun in 1981 to pursue his theological studies and continued working there after his graduation. He also served as a ruling elder in Immanuel Malayalam Presbyterian Church in Dehradun.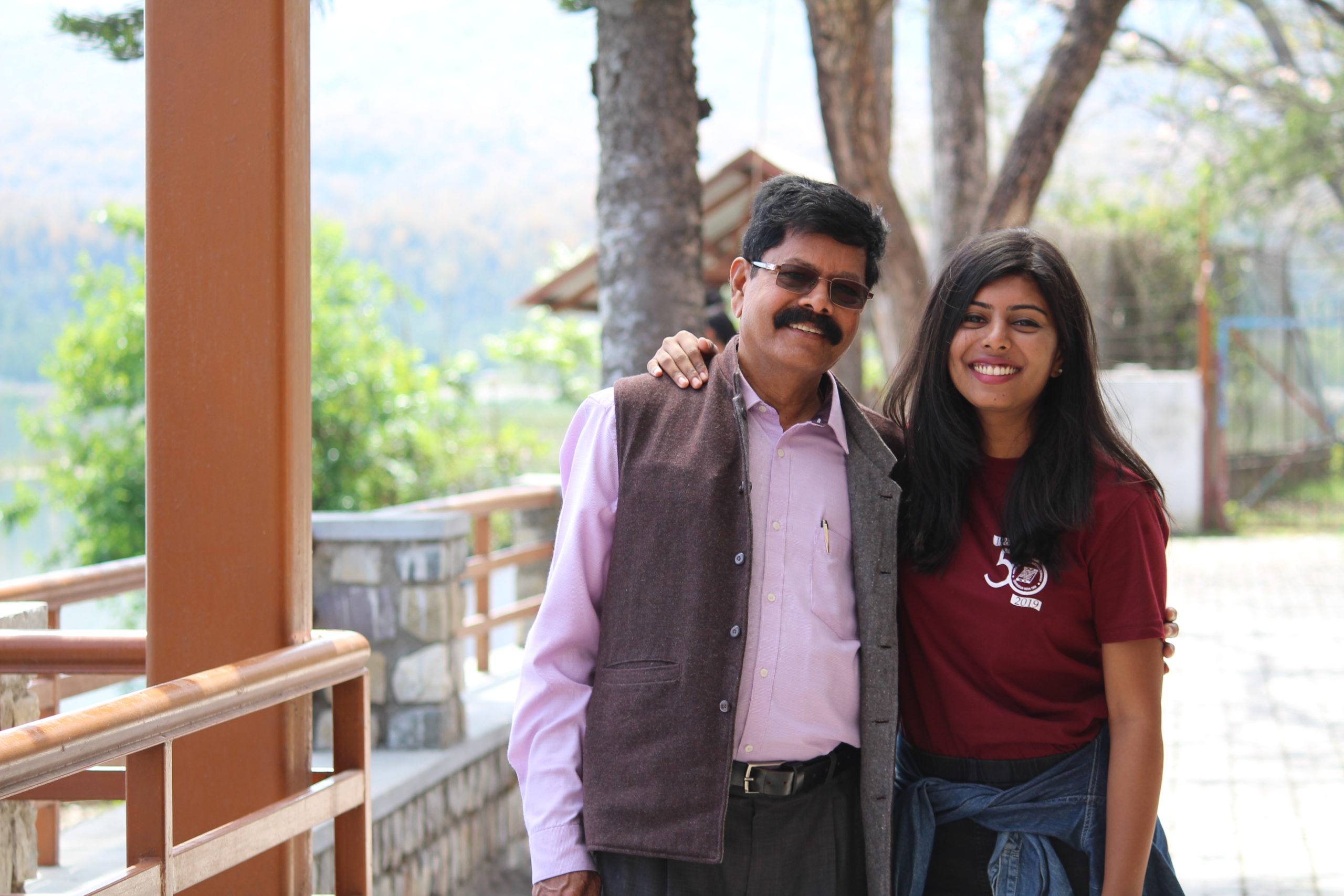 Here is Elina's story of grieving with hope.
Earlier, I would tremble with fear even at the thought of someone close to me dying. Should this happen, I felt that I would just fall apart and never be able to pick myself up; that it would be the end of everything good.
But when Covid-19 snatched my father away in 2021, I realised I was not afraid of death. The loss is irreplaceable. My father was my biggest inspiration, cheerleader, my best friend. At his death, the grief hit me like a storm. But fear of death had very little room in my heart. To my utmost surprise, peace and comfort overtook the fear I was afraid I would experience.
The more I leaned on God during this difficult time of loss, the more comfort I found in the hope of eternal life that he gives. It became more real when I would often think that one day I will also experience what Papa is experiencing now—forever with Jesus, wearing a crown of eternal joy and praise.
Grief comes in waves, and I do not know if the feeling ever goes away. But even in the mourning, there was this strange peace that filled my heart.
My father loved so purely, selflessly and sacrificially. He always reflected God's heart in the way he and my mum raised my sister and me. We miss him terribly each day, but I am so grateful for his life and every moment I have had with him. I cherish them so much and hold onto them very dearly.
The days after his death rolled by like a nightmare. Grief took over my body so much that I badly wanted to shake it off. It still feels that way sometimes. Grief comes in waves, and I do not know if the feeling ever goes away. But even in the mourning, there was this strange peace that filled my heart. I knew for sure only God could be the source of it.
I found true comfort in knowing that Papa ran his race well and is now rejoicing with Jesus. He is finally in his eternal home, with his Maker, where there is no more suffering. I can only imagine the beauty of it! Reminding myself of this truth has been my constant help to grieve well.
In the past, I have always underestimated the "peace that surpasses all understanding" (Phil. 4:6). Not anymore. Not since I have experienced it for myself at such a personal, intimate level with Papa's passing. This is only possible because of the death and resurrection of our Lord Jesus. 
God has been so close since Papa's passing, revealing himself in ways I had never known or experienced earlier. In so many ways—big and small—God has been showing me the hope of the cross is real, unwavering and complete. This has been my biggest strength in the many waves of grief.
My church community and close friends have also been such incredibly strong pillars of support and love, carrying me and my family through this time. I am beyond grateful to God for them.
I have also thought of how I would help others who may face the grief of losing a loved one. I would just try to be there for them in whatever ways I can—pray with them, check in on them and help them with everyday needs like food, groceries, or bills they need help with. Sometimes just knowing there is a community you can lean on makes all the difference.
Losing Papa (for now) has also put in me a deeper burden to share the gospel with my friends who do not know Jesus Christ. Papa's death has made it clearer to me that Jesus is the only true hope for this world. There is nothing or no one else who can redeem us.
---
"As True as the Troubles of Today Are, Christ is Still Enough"
Vivek Paul Oriel likes to describe himself as a work in progress and a lawyer. In a twin tragedy, he lost both his parents, Elizabeth and Emmanuel Oriel, to Covid-19. They were both doctors. They served selflessly in mission hospitals, quite literally as you will read, with blood and toil. Vivek recounts his grief and shares his hope for the present and the future.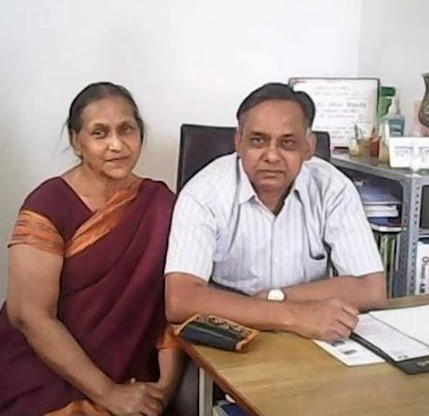 Here is Vivek's story of grieving with hope.
I lost both my parents to Covid-19 in April 2021. When they were alive they taught me to live well. But now that they have gone to be with our Lord, the life they lived is teaching me to grieve well, and hope well.
I guess, like them, I will try to keep doing the basics. And the rest will take care of itself. Some days it is not easy, but then God has been more than faithful.
My favourite Sunday School memory verse has been so helpful, "Jesus wept" (John 11:35). Christ is not a distant, unfeeling character. He knew he would overcome death. And yet, he grieved the death of his friend Lazarus.
My parents served in mission hospitals as doctors most of their working lives. They met in a government medical college in a small town in Madhya Pradesh. They completed their post graduate qualifications from Vienna, Austria. Then they just remained stuck to each other. 
Only recently, I got to know that they were late for their own wedding because they were busy with a surgery at the small mission hospital in which they were serving. They clearly did not do things "simply".
They travelled the seas as doctors with Operation Mobilization on the ship Logos 1. When my elder brother was born, my father worked in Bangalore Baptist Hospital for a while. But I suppose city-life was not their calling. They were most happy working in mission hospitals in rural India.
They found joy serving in a small 100-year-old hospital in a drought prone area in Uttar Pradesh. The area is ranked among the lowest on the United Nations's Human Development Index. It was not uncommon for medical supplies, including blood, to run out during surgeries. On some instances, my parents gave their own blood to complete the surgery.
As true as the troubles of today are, Christ is still enough.
Grief is not just in the passing of a loved one; but the end (for now) of our shared story. For a grieving person, words of wisdom may not be that helpful. It may help to share a fond memory of their loved one. It helps to remember and celebrate the good.
God helped me in my grief through his people. There were many people—my brother, sister-in-law, nieces, my father's youngest sister, close friends of my parents, my pastor and my friends—were all checking in on me and encouraging me.
It helps to know that my parents's troubles are over. They are with Christ. I am guessing if there is a kitchen there, my mum must have found her way to it and must be busy figuring out how to make something taste better.
It helped that I was raised with a biblical understanding of death and suffering. But the timing of death can still bring much grief. The loss is real—not getting a chance to continue our conversations, to say goodbye, or to celebrate things together.
My hope in Christ is both for the present and future. When the present does not feel great, I still know my future is with Christ. The words of Jesus in John 16:33 gives me hope for the moment: "I have said these things to you, that in me you may have peace. In the world you will have tribulation. But take heart; I have overcome the world."
As true as the troubles of today are, Christ is still enough.
Easter is a good time to share this hope. With all the pain that comes in this life, death is not the end of the story. That is why celebrating Easter has become a little more personal. Knowing that Jesus lives, I can look forward to tomorrow with joy.